Tights
Children's tights are an important clothing accessory in any closet! Tights serves both in practice and emphasize the overall look. Here you will find children's tights for everyday life up to the crawling of children's tights, so that the baby's delicate skin is not rubbed off. Spanish romantic design, English classics, Danish creativeness - all this and more of our great brands are depicted in children's tights!
Read more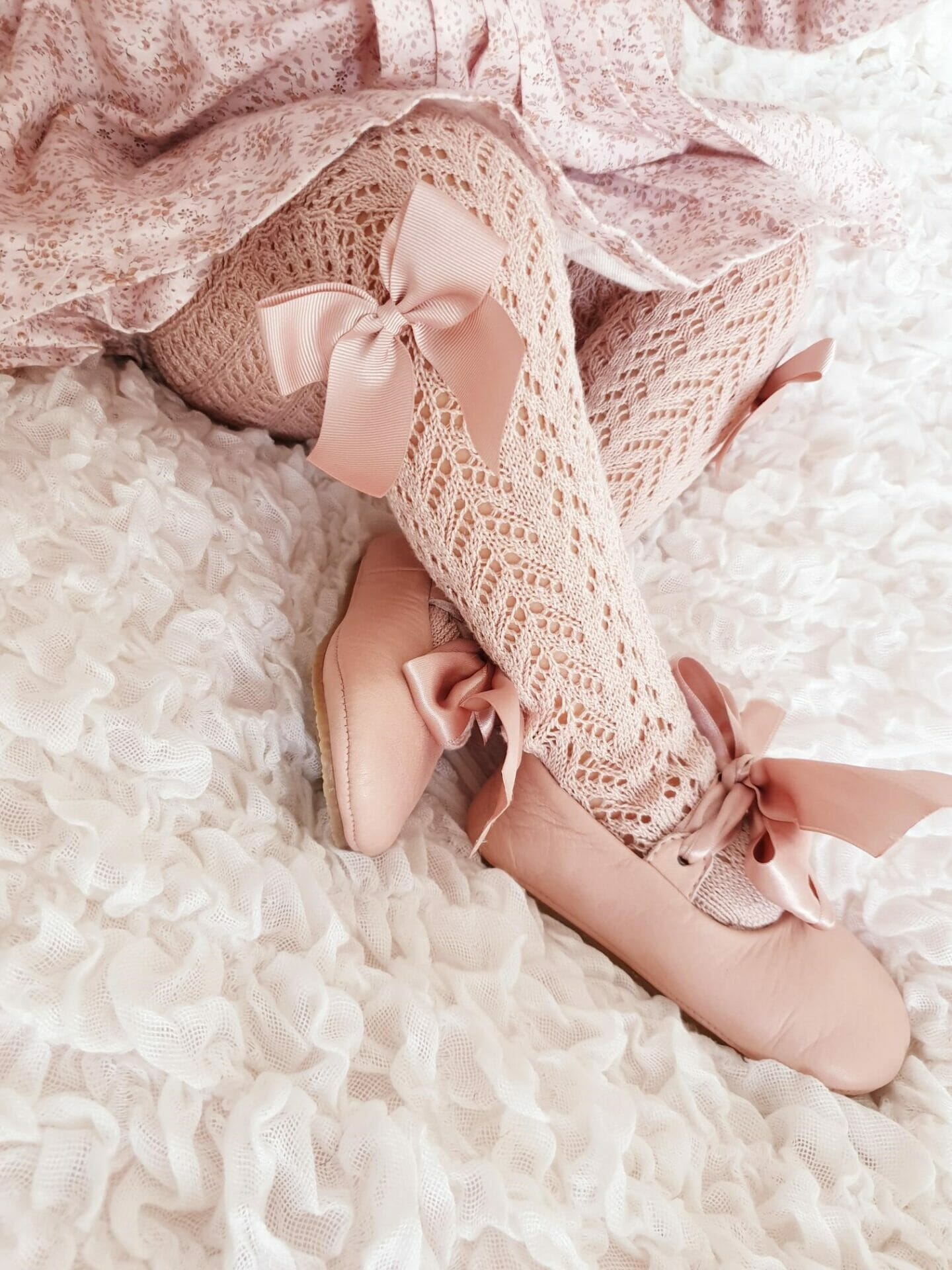 Showing 1–12 of 65 results
Children's tights and socks – ultimate quality with style
Tights are often an underrated garment for children's wardrobes, but we would love to show you how girls' tights can be very colorful, bold, patterned, and striped, with and without bows, as well as super soft and comfortable to create beautiful outfits for school, dance or home.
Why it is important to choose quality garments?
Tights are one of the most practical kids' clothes, which will be worn all year around – not only in the fall and spring but also during cooler summers. You can pair them with snow pants on a snowy day or wear them under a fancy party dress over the holidays. They make great fall transitional clothes when combined with some of your other favorite items and therefore must be soft and pleasant to the touch, as well as well-made and durable against wear and tear.
Useful Tips When Choosing Kids' Tight and Pantyhose
We've collected information for you to navigate the vast array of children's cotton pantyhose on the market, so you know what to look for when choosing toddler or children's tights for everyday outfits to party-ready looks.
Pay attention to comfort
The most important thing in any child's clothing is comfort. Even if you choose the most beautiful and luxurious outfit, but it is not comfortable, your child will simply refuse to wear it. It applies to children's tights as well, where no itchy fabrics and no uncomfortable seams are allowed. Especially toddler tights and socks should:
feel pleasant to the child's skin;
be easy to put on and take off;
fit well;
be made of high-quality materials that are breathable.
Double-check the quality
Children's clothing not only has to look good but also be made of excellent quality fabric that won't lose shape or color when washed frequently. The fabric and especially the seams should be very soft, as they will be in direct contact with the toddler's sensitive skin.
Our range of girls' tights includes both GOTS-certified organic cotton tights, long socks, and terry socks for newborns, as well as excellent quality boy's cotton tights with polyamide and elastane to ensure extra softness of the fabric.
Get right the size
When buying children's pantyhose, especially if you make a purchase online and it is not possible to be sure of the exact length, please pay attention to the size, because one of the most common situations we come across is that the garment is chosen too big for the child. We recommend that you carefully familiarize yourself with the size chart to find out the most suitable size.
Let the colors rule
Although the classic shades are neutral – white, gray, and beige, we are ALL about colors and their bold combinations. For smaller children, products with colorful prints are available – for example, organic cotton boy's tights with a fun dinosaur print or organic cotton socks with Steiff's iconic teddy bear. For older children, especially girls, you will find pink, apricot orange, terracotta brown, or cherry pink tight, and numerous types of white classic shades, all of which can be perfectly combined in beautiful outfits.
Stylish girls' tights and children's socks at Petite Kingdom!
We've got knitted children's socks and toddler tights, long socks for boys, terry socks for newborns, and much more. We understand that not only does your little one need beautiful clothes, but also all clothing needs to be practical and long-lasting too. That's why we offer a huge selection of baby and toddler garments, so you will be able to find something perfect in just seconds!
All our toddler tights and children's socks will be:
very soft. We have chosen designs that are very soft and pleasant to feel.
stylish. Everyone wants to be stylish and we make sure your taste is catered for with a wide range of colors – from the soft pink of cherry blossom to the saturated brown shade of fallen leaves.
impeccable quality. Our girls' tights will be durable, high-quality, and can safely be washed in the washing machine. They also come in different types of material, including cotton, wool, merino wool, and microfiber. It's important you choose one that is suitable for your needs and know how to take care of them accordingly.
We're delighted to know that you'll be shopping with us soon! To get the most out of your experience, we want to be sure that you're well-informed about each of the products we offer. If you would like a one-on-one consultation, you can always come in for a walkthrough at our store, or please feel free to contact us online.
Read more
Read less