Soft Toys
What is your favorite soft toy from childhood? Was it a cuddly plush teddy bear - a loyal childhood companion or maybe a stuffed toy bunny in whose fluffy ear you whispered the big events of the day? Read more about the importance of stuffed toys in a child's physical and emotional development and how to choose high-quality soft toys.
Read more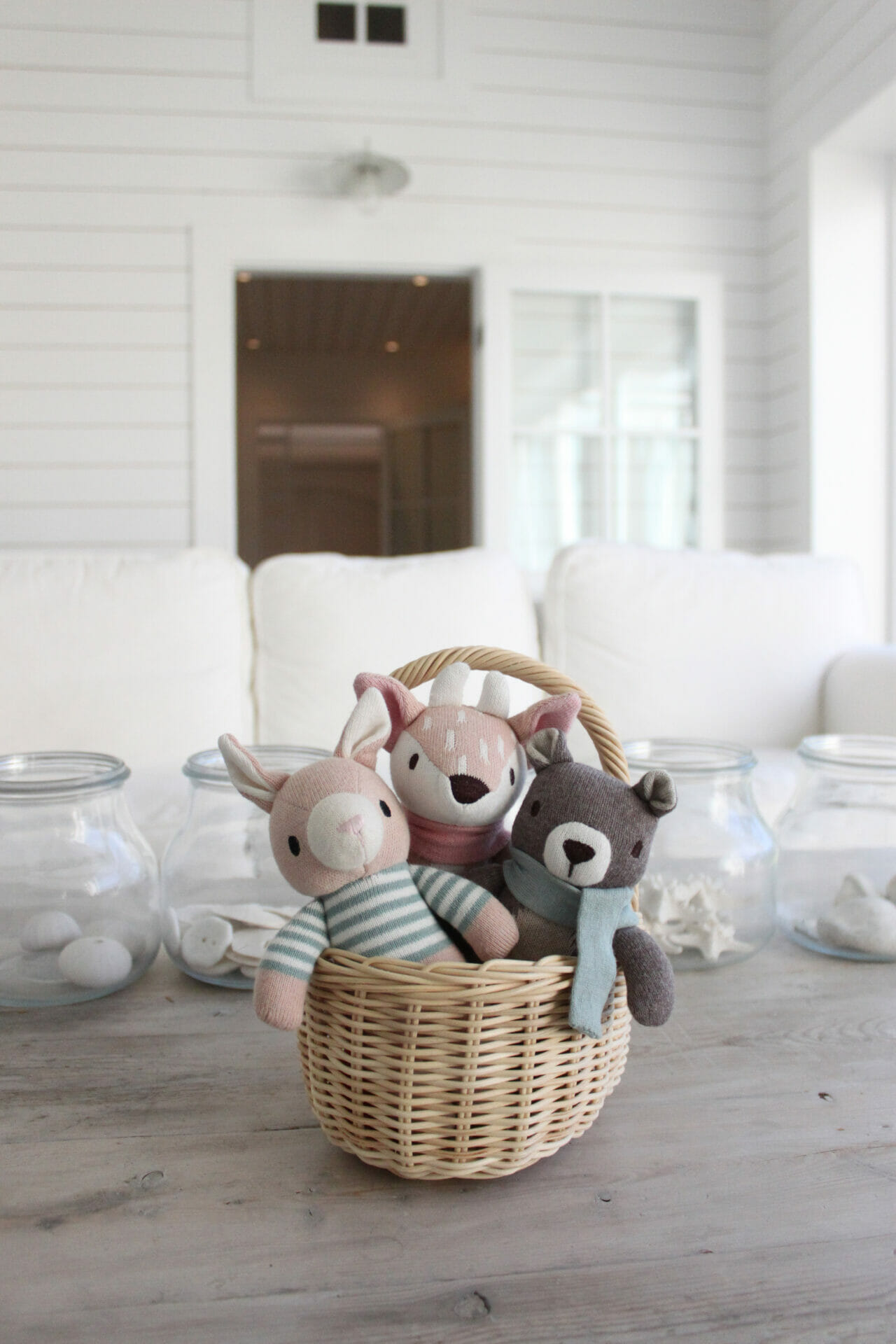 Showing 1–12 of 22 results
Soft toys for children - why the teddy bear is so important
At Petite Kingdom, we have put a lot of thought into choosing the highest quality toys that are educational and developmental, as well as made of easy-to-care-for high-quality materials. These toys are not just nice accessories in the nursery, they play a vital role in the child's development and shaping his or her emotional world. Please read more on how to choose the right toy – be it a stuffed animal bunny or big teddy bear – a lifelong friend and a loyal companion in your child's exciting journey of discovering the world and new friendships.
Why are cuddly toys essential for children's development?
Around 12-18 months toddlers begin to develop social skills. They start exploring the world and learn to recognize and regulate their emotions. As learning these new skills is a big task for little ones, it's important that children explore the world in a safe and positive way. And learning through play is the most natural way of learning.
The importance of plush toys in a child's development
Social skills
Around the time when children are hitting the one-year mark, they start to explore more of the world outside the family. Role-playing is a great way to help your kids with these first important steps of independence.
This is where soft toys come in handy. With the help of a stuffed toy animal, you can make the daily tasks more fun by role-playing them with your child – for example, you can put the soft toy teddy bear to bed together. You can brush the teeth of your favorite plush bunny and tell them a bedtime story. In this way, you will not only create a daily routine for your child but also teach them how to care for others.
The cuddly toy will also be a great help when you teach your toddler to share toys. If you share the toys with your favorite teddy bear, it will be easier for the child to understand the idea of ​​sharing. This experience will be helpful when your child is playing with other kids.
Similarly, you can play games with having tea, eating cakes, or playing with building blocks. At this age, it is essential for children to repeat the same actions several times and they feel great joy in succeeding again and again.
Language development
Upon reaching the age of one year and a half, your child is already using some words and/or sounds. Perhaps you have already noticed that the child coos and communicates in his/her own language while playing.
This is an excellent opportunity for the child to expand their vocabulary. With the help of a big teddy bear, you can teach new verbs. The cuddly bear climbs the sofa, the plush bunny jumps, etc. The soft plushie can also be used to teach the child to name different parts of the body – mouth, hands, ears, paws, etc. Children learn best when they feel secure and happy.
You can also use the favorite big soft toy to discuss the big events of the day with the child before bedtime.
Emotion regulation
The age of 1-3 years is usually a time of BIG EMOTIONS and a moment when both a doll that upset the child or socks of the wrong color will be thrown away in a tantrum. Don't worry! This is a perfect learning opportunity for your child to understand his or her feelings. It is also a great opportunity to teach patience, tolerance, and most importantly, understanding and recognizing emotions. That's why it's so essential that using your favorite soft doll or soft toy teddy, you can reenact the situation that caused the emotional reaction and calmly talk it through.
Loyal companion in the big world outside the home
A child will likely associate the cuddly toy with home and family, so the plushie will also serve as a transitional object when parents are not around. It will help the toddler to self-soothe, which is, of course, a skill that takes time to learn. Having a favorite cuddly will help the child to feel safe and loved while discovering new independence outside the home.
Secure attachment with parents
It is natural for a child to learn new activities and concepts through play, but the most exciting are those activities in which the parents also participate. In addition, to pretend tea party and lunch, you can also play the "Where's the cuddly bear?" game. Together with your favorite big soft toy, you can play out the whole day. If it was difficult for your toddler to get up in the morning perhaps also the teddy bear or comforter bunny feels sleepy today. You can discuss and reenact a scenario about what would have helped the little bunny to get up better. Maybe the soft toy bear doesn't like vegetables at dinner today, and you want to play a game of healthy eating habits?
Valuable, high-quality, and beautiful soft toys for children at Petite Kingdom
In our store, you will find a wide range of top-quality toys for children of different ages. Also, these big and small soft plushies (e.g. Steiff teddy bear) will make wonderful baptizing and birthday gifts.
Each plush toy and baby comforter has been carefully selected, and we have made sure that the toys we offer are:
high quality. It is essential for us that the toys are made of safe materials, which are environment and child friendly. For example, the Steiff bear value is not only its iconic design but also the impeccable quality of its materials;
calm colors. This is especially important if you are looking for a cuddly plush toy that your child will want to take to bed with them. The colors should be neutral so that the child can calm and wind down before a nap;
easy to clean. Yes, it is important, because children will often take their plushies with them to the playground, the sandbox, and on family trips.
Read more
Read less